Verify API Troubleshooting
MessageBird offers multiple tools to enable you to quickly understand any unexpected behavior between the MessageBird Verify API and your application.
Explore the Message Logs in your Dashboard
If you run into issues with SMS or Voice message and token delivery, the best place to start troubleshooting is in the Message Logs in your MessageBird Dashboard.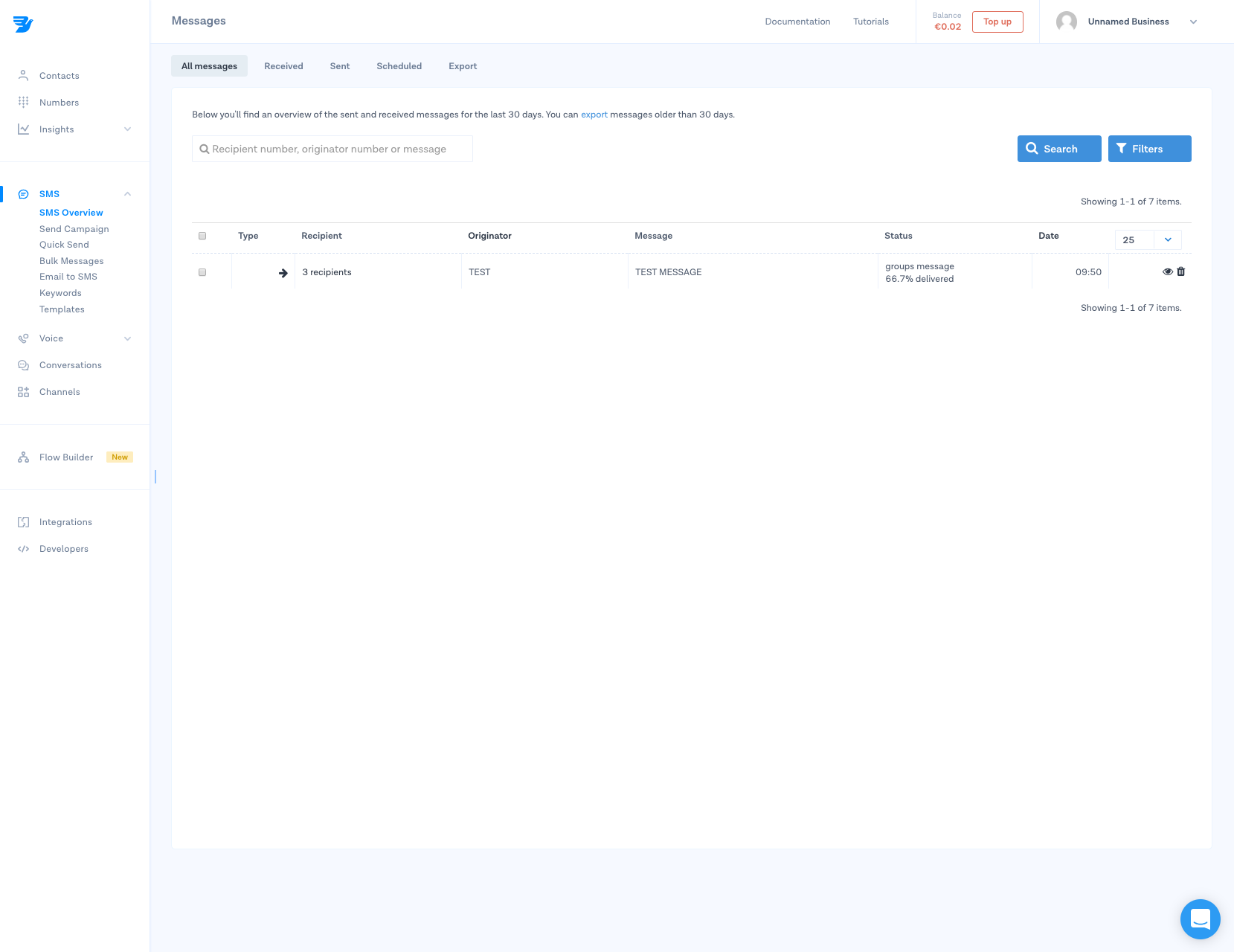 There you can find an overview of the sent and received messages for the last 30 days, and you can export messages older than 30 days.
Select the eye symbol on the far right side of the logs to drill into each specific message for information such as ID, Originator, Send Time, Message and Summary.
You can filter the SMS logs by Status (e.g. filter by undelivered) using the Filter button on the top right.
SMS error codes for Verify
If you've received an error response and code from MessageBird, you can troubleshoot the error by exploring the SMS Error Codes below.
The SMS Error codes, or extended error codes, are in addition to the base states we're reporting to a client. These codes are reported as part of the HTTP status report.
Error Code
Error Code Description
Intermediate or Permanent Status

0

EC_NO_ERROR
N/A

1

EC_UNKNOWN_SUBSCRIBER
Permanent

2

EC_UNKNOWN_BASE_STATION
Permanent

3

EC_UNKOWN_MSC
Intermediate

5

EC_UNIDENTIFIED_SUBSCRIBER
Intermediate

7

EC_UNKNOWN_EQUIPMENT
Intermediate

8

EC_ROAMING_NOT_ALLOWED
Intermediate

9

EC_ILLEGAL_SUBSCRIBER
Permanent

10

EC_BEARERSERVICE_NOT_PROVISIONED
Intermediate

11

EC_TELESERVICE_NOT_PROVISIONED
Intermediate

12

EC_ILLEGAL_EQUIPMENT
Intermediate

13

EC_CALL_BARRED
Intermediate

21

EC_FACILITY_NOT_SUPPORTED
Intermediate

26

EC_SUBSEQUENT_HANDOVER_FAILURE
Intermediate

27

EC_ABSENT_SUBSCRIBER
Intermediate

28

EC_ABSENT_SUBSCRIBER_NO_PAGE
Intermediate

29

EC_ABSENT_SUBSCRIBER_IMSI_DETACHED
Intermediate

30

EC_CONTROLLING_MSC_FAILURE
Intermediate

31

EC_SUBSCRIBER_BUSY_FOR_MT_SMS
Intermediate

32

EC_SM_DELIVERY_FAILURE
Intermediate

33

EC_MESSAGE_WAITING_LIST_FULL
Intermediate

34

ECSYSTEM_FAILURE

1

Intermediate

35

ECDATA_MISSING

1

Permanent

36

ECUNEXPECTED_DATA_VALUE

1

Permanent

37

ECSYSTEM_FAILURE

2

Permanent

38

ECDATA_MISSING

2

Permanent

39

ECUNEXPECTED_DATA_VALUE

2

Permanent

40

ECUNEXPECTED_DATA_VALUE

2

Intermediate

71

EC_UNKNOWN_ALPHABET
Permanent

72

EC_USSD_BUSY
Intermediate

101

EC_SUBSCRIBER_INSUFFICIENT_BALANCE
Intermediate
General API error codes
If you've received an error response and code from MessageBird that's not listed in the above SMS Error Codes list, you can troubleshoot the error by exploring the general API Error Codes.
In case of an API error, the body of the response includes a json formatted response that tells you exactly what's wrong.
Contact technical support
If you're still having trouble troubleshooting the Verify API, please don't hesitate to contact us at support@messagebird.com; we're here to help you out.